Culmstock Village Hall
Candlelit Christmas Concert
Carols to Sing & Christmas Music, Tea & Mince Pies
Saturday 9th December, 3 pm, Admission Free (Retiring Collection)
Including Traditional Carols sung by Alan Rowland (bass), music from The Messiah and The Christmas Concerto by Corelli, Symphonie de Noël by de Brossaard, Corette's Noël Suisse,  Ding Dong Merrily on High etc. 
Past Concerts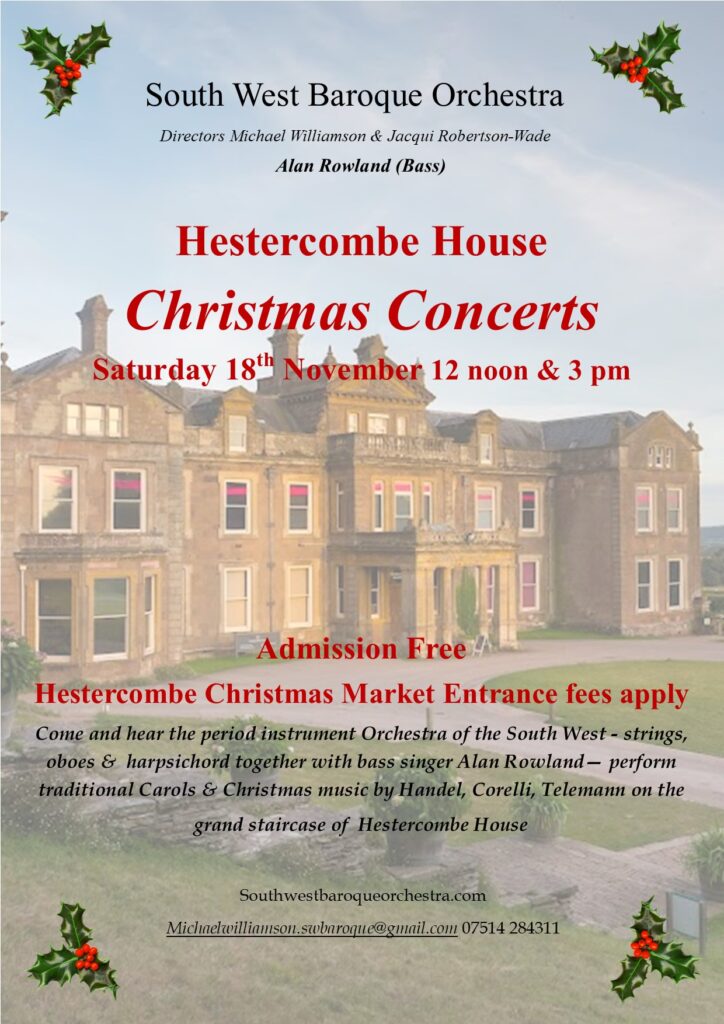 Monday 3rd July, Dido & Aeneas by Purcell, Winkleigh Singers & South West Baroque Players. Umberleigh Village Hall, 7.30 pm. Director Roland Smith. Tickets £10 (accompanied under 16s free). www.ticketsource.co.uk/the-winkleigh-singers or on the door. 
Thursday 6th July, Truro Cathedral, Lunchtime Concert, 1.00  pm. Free Admission. 'Grand Concerti of the Baroque'. Handel The Arrival of the Queen of Sheba, Oboe Concerto by Heinichen soloist Zoë Cartlidge, Vivaldi Concerto for 2 Cellos with Jacqui Robertson-Wade & Stephen Brown, Corelli Concerto Grosso Op 6 No 4 & Avison/Scarlatti Concerto No 5, Brescianello Chaconne, Boyce Symphony No 4. 
Saturday 8th July, St. Peter's Church, Tawstock, near Barnstaple. Afternoon Tea Concert, 3.00 pm, 'Grand Concerti of the Baroque'. Handel The Arrival of the Queen of Sheba, Oboe Concerto by Heinichen soloist Zoë Cartlidge, Vivaldi Concerto for 2 Cellos with Jacqui Robertson-Wade & Stephen Brown, Corelli Concerto Grosso Op 6 No 4 & Avison/Scarlatti Concerto No 5, Brescianello Chaconne, Boyce Symphony No 4. Tickets £15 (including cream tea; accompanied under 16s free)  www.ticketsource.co.uk/south-west-baroque-orchestra or telephone box office on 0333 666 3366 or on the door
Saturday 15th July, Sherborne Abbey. Evening Concert, 6.00 pm 'Grand Concerti of the Baroque'. Handel The Arrival of the Queen of Sheba, Oboe Concerto by Heinichen soloist Zoë Cartlidge, Vivaldi Concerto for 2 Cellos  with Jacqui Robertson-Wade & Stephen Brown, Telemann Concerto for 2 Violas with Poppy Holton & Richard Thompson Corelli Concerto Grosso Op 6 No 4 & Avison/Scarlatti Concerto No 5, Brescianello Chaconne, Boyce Symphony No 4.  Tickets £15 (including interval refreshments; accompanied under 16s free)  www.ticketsource.co.uk/south-west-baroque-orchestra or telephone box office on 0333 666 3366 or on the door