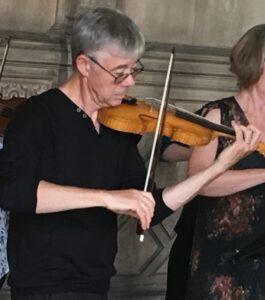 Michael Williamson
Michael studied the violin with Herbert Whone and encountered the baroque violin at the Dartington Festival Baroque Orchestra under Paul Goodwin. Since then he studied with Micaela Comberti and Catherine Mackintosh and has performed with period instrument groups, including Musica Leonarda and the dance group Saltarello, which was commissioned to create 'The Grand Tour' by the Galway Early Music Festival in 2000. For five years he toured schools playing early stringed instruments with the Warwickshire Waits.
While Head of Strings for Warwickshire County Music Service he directed the Warwickshire String Training Orchestra, performing regularly at the Warwick & Leamington Festival, at the Bournemouth International Festival and on European tours. From 2006 – 2011 he was Manager and Strings Tutor for the Warwickshire County Youth Orchestra, which received the accolade of being invited to play at the Royal Albert Hall as part of the Festival of Music for Youth 2011. He went on to manage the Spires Youth Orchestra, an independent Midland based Youth Orchestra, dedicated to offering symphonic orchestra opportunities of the highest standard in that part of England. While working for Warwickshire County Music Service, Michael was responsible for bringing the experience of playing chamber music to thousands of young people over a period of 21 years.
From 2016 until 2021, Michael directed Warwickshire Baroque which gave concerts in churches and country houses throughout the Midlands and became Orchestra in Residence at Stoneleigh Abbey. He now directs NORVIS Baroque and tutors at the NORVIS Summer School, and is a member of Artavian Baroque in north Devon where he now lives.
Jacqui Robertson-Wade  http://www.violplayeronline.co.uk
Jacqui Robertson-Wade studied `cello and viola da gamba  at Trinity College of Music and returned as a mature student with a scholarship to study the repertoire of specialist repertoire of late French viols, including the pardessus de viole.
Jacqui has taught the cello since 1981 entering cellists of all ages for graded exams and is a member of the Incorporated Society of Musicians.
In 2003 she gave the world premiere of the Chantry Suite for pardessus de viole and harpsichord at the British Library in London with Micaela Schmitz.  Jacqui is an established performer and music educator; she was a member of the Arden Consort, who received Lottery funding to take Early Music into the community:   Musica Leonarda; Saltarello, the baroque dance group which was commissioned to create 'The Grand Tour' by the International Early Music Festival in Galway: Stromenti: Pianelle: Trio Filidori: (with the late Alan Davis, Recorder and Rosemary Robinson, Keyboard).
'…the viola da gamba playing was very good – notably in Virgam virtutis from Handel's Dixit Dominus. Andrew Benson-Wilson, Early Music Review.
"A beautifully judged account of Marais' Folies d'Espagne, where the expressive potential of the bass viol was used to full effect." Anders Östberg, Birmingham Post.
Jacqui has also played at the Royal Shakespeare Company in Stratford-upon-Avon. She was lead cellist in Warwickshire Baroque where she regularly performed concertos on the viola da gamba. While working for Warwickshire County Music Service, Jacqui toured schools playing early stringed instruments with the Warwickshire Waits for 5 years.
In 2005 she established Rondo Publishing  with the publication of her first viol tutor, Viol Player, which has received international critical acclaim.  With viol player Alison Kinder, Jacqui founded the Rondo Viol Academy in 2010. Together they coach students and give recitals.
A pioneer in the world of viol teaching for children, Jacqui established viol tuition in schools in 1998. Her viol syllabus equates the viol to other instruments and is based on the framework of the National Curriculum of England and Wales.  In 2016 the Warwickshire County Youth Viol Consort 'Gutted!' were awarded the prestigious 'Partnership Award' in the National Festival of Music for Youth, enabling the group to record a CD.
Jacqui has recorded over 70 lessons for viols and many multitrack recordings on YouTube. She continues to teach viols in the UK, and at Norvis summer school, write viol tutors and give concerts on a variety of instruments including viols, baroque cello, cello piccolo and baryton. She is a member of Artavian Baroque, based in North Devon, where she now lives.